Research focus
I study how biotic communities respond to anthropogenic disturbances and natural conditions in an effort to better understand how to manage ecosystems for the persistence and health of fish and wildlife. For about 20 years, my research has been focused on community assessments across large landscapes, although I have also worked on individual species. Typically, I work in collaboration with other researchers to address local, regional, and national research needs of land managers by leveraging existing datasets.
Contact information:
Jodi Whittier
School of Natural Resources
University of Missouri, Columbia, MO 65063
Phone: 573-491-9910
Email: whittierj@missouri.edu
Google Scholar
Research position opening
Research project: Understanding the consequences of conservation actions on stream condition and the associated response of biotic communities
Applications are being accepted for a full-time researcher in the School of Natural Resources, University of Missouri (MU). The primary research will focus on linking biotic endpoints to water quality within the Upper Mississippi River Basin (UMRB) for the goal of predicting biotic response to agricultural conservation practices. Additional objectives include developing regional measures of stream condition and assessing spatial scalability of modeled endpoints. This research is a component of a USDA Natural Resources Conservation Service (NRCS) funded Conservation Effects Assessment Project - Wildlife (CEAP-Wildlife; www.nrcs.usda.gov/wps/portal/nrcs/main/national/technical/nra/ceap) for the UMRB. This project is a collaborative effort to develop a framework to assess, report, and forecast benefits to ecosystem services affected by USDA conservation programs in the UMRB. The UMRB CEAP-Wildlife team is comprised of a multi-disciplinary group of scientists and professionals from MU, University of Kansas, University of Minnesota, Michigan State University (MSU), NRCS, and The Nature Conservancy (TNC). Hydrological engineers and soil scientists will model water quality within the UMRB using SWAT+. The MU researchers will work closely with collaborators at MSU to use modeled water quality outputs (e.g., sediment and nutrient loads or concentrations) as predictors of stream biotic health across the UMRB. These hydrologic and statistical models will then be used to assess the benefits of conservation scenarios to water quality and biotic health. The MU researcher will also engage with scientists at TNC to incorporate these biotic response models into tools that will be used by decision-makers and practitioners in the field. The ideal candidate will have expertise in fish ecology, landscape scale assessments, geospatial sciences, and statistical modeling. At least one lead author publication is anticipated from this project.
Further information
MO Stream temperatures
Stream temperature models were developed for streams throughout the Central Plains (CP) and Ozark Plateau (OP) ecoregions of Missouri. Mean monthly accuracy was similar for both ecoregions however the OP varied seasonally as predicted due to the confounding influence of spring water. Blue lines represnt the annual mean RMSE for each subregion. Improved measures for groundwater inputs would improve model reliability in the OP. The map shown here depicts mean maximum July temperatures.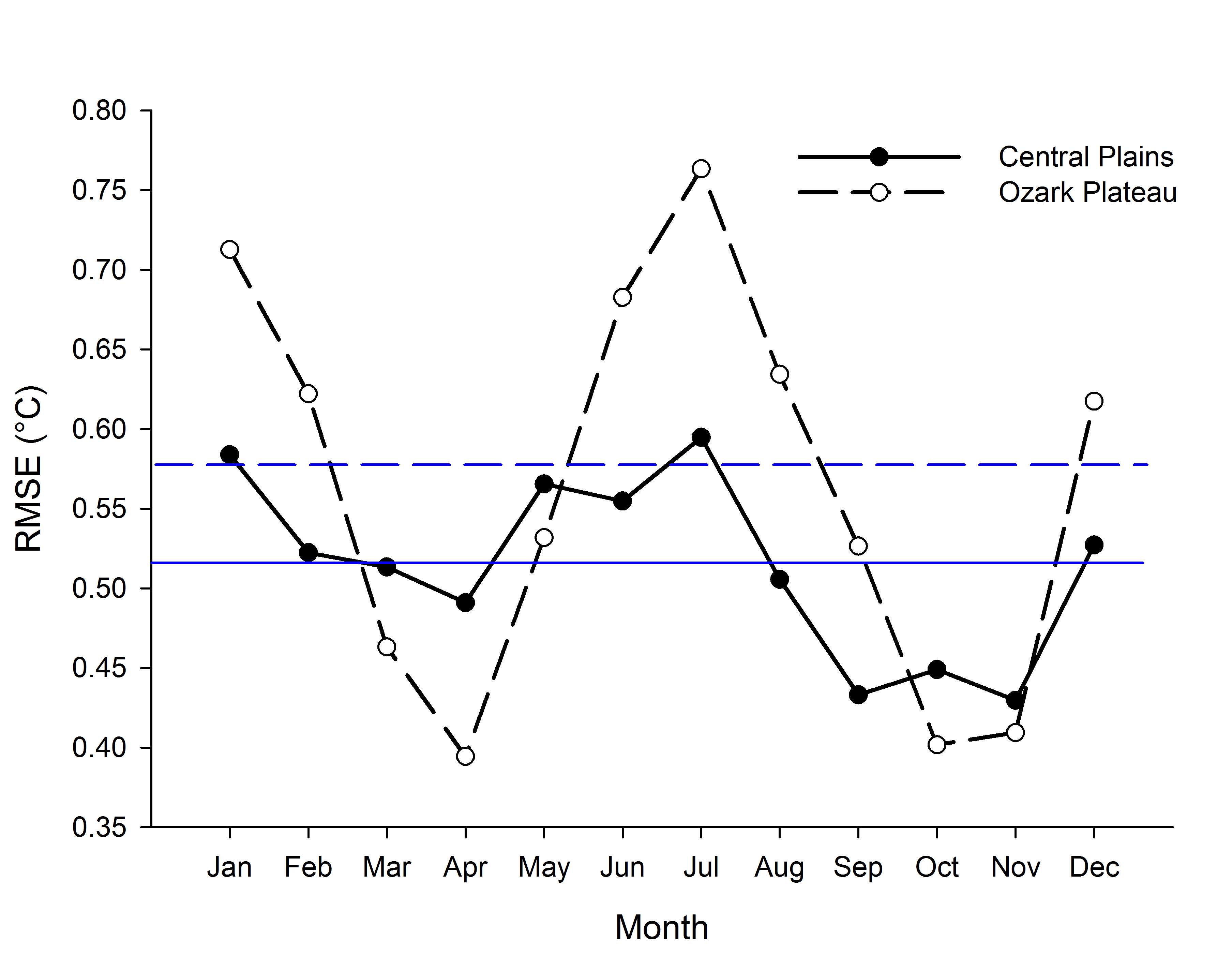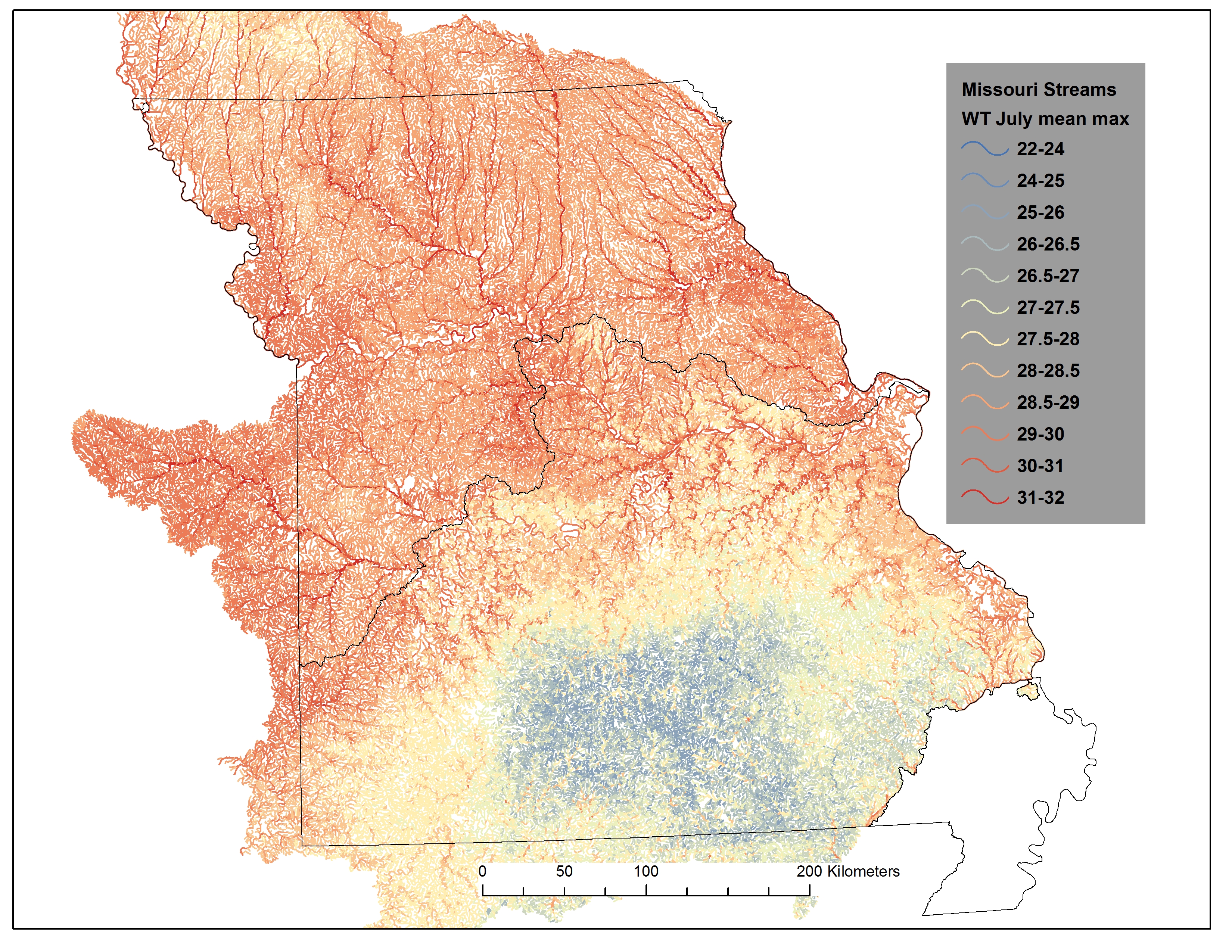 Link to report